Responsive Sport Themes for Wordpress
Get your website & blog into shape with one of our sport themes!

Buy now
From fanblog to club website, our Wordpress sports themes are suited for everything sport related. Our themes are easy to use, customizeable to your liking and above all very affordable! We add new themes every week, so have a look at our current and upcoming offers.
Make the content of your Wordpress site accesable for mobile users with our fully responsive themes. The design of the website or sportsblog will adapt to the viewers device. Best of all: you don't have to do anything extra, our themes will do all the heavy lifting!
Easy to use
All our responsive themes are handcrafted and customizeable by you. You can use the build in options from the Wordpress admin dashboard and use the Photoshop files you will get with every theme. It's super easy and your new design will be online in a new personal best!
Our latest Wordpress themes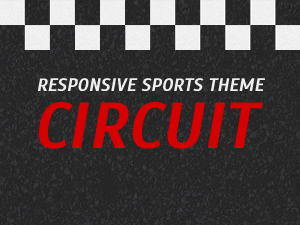 Responsive theme for sports like Formule1, stockcar, MotoGP, karting and more!
Buy theme